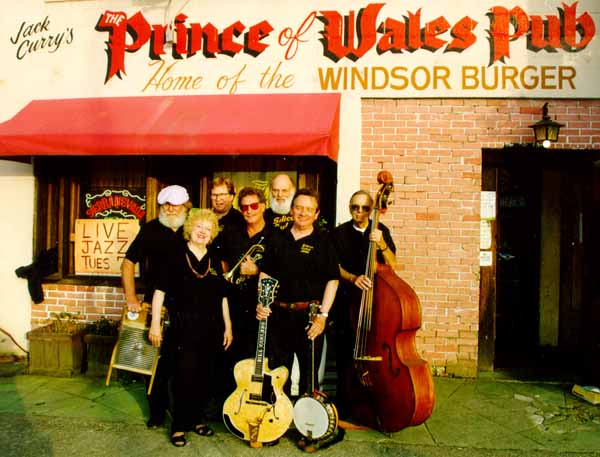 Silicon Gulch Jazz -- About the Band
Ida Beer Bithell

-- has been playing piano since the age of 12. After having discovered Trad Jazz, she became a convert of Lil Hardin's style and has been "beating out the chords" for the Silicon Gulch Jazz Band for more than 15 years.

Joe Bithell

-- washboard player extraordinaire and leader of the Band. Has lent his rich blues voice to many of the famous old tunes adding a new dimension through his charismatic style.

Bill Carlson

-- has worked as a professional musician with Bluegrass Country Western and Dixieland groups and even Elvis impersonators!! His rhythm and technique on the banjo and guitar are superb.

John Dodgshon

-- Cornet. Immigrated from England to New York in 1966 but before that led the "Panama Jazz Band" in Liverpool which was playing weekly at the club where the "Beatles" got their first steady job! John came to the Bay Area in 1969 and played with the Rose & Thistle J B. Since then he has performed with many jazz bands including Jubilee, Jazz Cardinals, The Redcoats, Napa Valley, 52nd Street Revival and made a world tour with Mike McComb's Skunk Creek J B. John has led Marin Jazz for many years. He recently retired from Hewlett-Packard where he traveled the world in their behalf and sat in with bands in Europe, Hong Kong and Japan. John first subbed with the SGJB in January 1981 and joined as a regular in 1999.

Laurence Hyman (a past member who is now a frequent substitute)

-- learned jazz cornet listening to his father's 78's. At 14 he joined the Musicians Union and played roadhouses and cruise ships, appearing at 17 with Rex Stewart at Eddie Condon's in New York City. He owns Woodford Publishing of San Francisco, creators of fine books on jazz and blues.

Marilyn Johnson

-- Vocal. Her first gig was at age 3 singing "Holy, Holy, Holy! She later sang, with her mother, for funerals in Iowa and was a soloist in elementary, Jr. high and high school, later singing folk and classical. She sang in a trio doing black gospel for 4 years, sang big band 8 years and continues with country and jazz. An elementary school teacher (all her life!) Marilyn is now doing special work with struggling readers. She also enjoys sales, marketing and advertising. Marilyn has been sponsored by NASA, FAA & CAP on a national level promoting aerospace education in public schools for both teachers and children, writing promotional material and leading conferences. She also taught Young Astronauts (after school club). The ever vivacious Marilyn has been entertaining our audience with a few impromptu numbers on Tuesdays at the Prince of Wales Pub, for about ten years.

Dave Kawamoto

-- played with the Honolulu Symphony before moving to San Jose. After more than 20 years with Pan Am, he now pilots planes for Delta out of New York. A proficient and moving clarinet and alto sax player, Dave has more recently added Soprano and Tenor Saxes.

Sam Morocco

-- String Bass. Started as a drummer in 1946 & switched to string bass in 1949. Since 1965 Sam has played string bass in Bluegrass, Ballroom, Big Band, Swing, Classical, Church, Combos & duets. Sam retired from a career in purchasing in November 1998 and joined the band in 99. This is his first "Dixieland" experience!

Jon Schermer

-- Trombone. First heard traditional jazz when he was in grade school, when an uncle took him to The Annual Ragtime & Traditional Jazz Festival in St. Louis, Missouri. There he saw groups like The Salty Dogs and Turk Murphy's band. Several years later he went back to the festival and heard the Royal Society Jazz Orchestra. In the early 80's Jon moved to the Bay Area, and joined Royal Society and had the opportunity to play at the St. Louis Traditional Jazz Festival. Since his arrival in the Bay area, Jon has played with many big bands, theatre groups, combos, and even an occasional classical group.

Robert E. (Bob) Smith (a past member who is now a frequent substitute)

-- his colorful solos on the string bass have been entertaining audiences of this band for more than 10 years (he has played it for 65). He is also a great stride piano player and once substituted for Jess Stacey.

Joyce Taylor

-- Banjo. A native Californian, Joyce grew up on the Peninsula graduating from San Jose State University in Music. She is a Kindergarten teacher and an instructor in mathematics at the graduate level. Her first music job was with the Big Al's Gas House Gang at Big Al's in Palo Alto. She played for the Red Garter in San Francisco and New Orleans, and played at Scarlett La Rue's in Los Gatos for over 20 years. Her own groups are Joyce Taylor and Friends, Joyce Taylor's Tid Bits and The California Republic J B. She has appeared with many local groups like Apex Jass Band, Churchill Street J B, Magnolia, Jubilee J B, Professor Plum, and 52nd Street Revival.

Tom Small (a past member who is now a frequent substitute)

-- has lent his trombone talent to many Bay Area bands and shared the stage several times with Turk Murphy. Listen as he varies the tone on different tunes. Tom also Practices Law in Palo Alto.
---
Back
http://kellerjazz.com/silicongulch/silicongulchband.html
Last Updated: Saturday, 03-Jun-2017 14:02:54 MDT